Listen to our first IRL Meet Cutes!
Our new rom-coms were based on real-life love stories.
Hello friend! We're excited to bring you a brand new kind of Meet Cute story: the IRL Meet Cute. This week we published three original, scripted audio rom-coms that are based on actual couples. Because rom-com magic happens in real life too! 
IRL Meet Cutes are a bit different from our usual stories. Since they're adapted from actual relationships, they live somewhere between the land of strict fact and pure fiction. The characters are played by voice actors and the dialogue isn't word-for-word what was said in real life, but our Meet Cute writers worked in partnership with their muses to portray their experiences accurately. 
"There is a BIG difference!" Meet Cute writer Elena Nicolau said when we asked her what it was like to work on Love From A to Z as opposed to a typical Meet Cute story. "I was entrusted with a real person's love story—and such an amazing one, at that. I often use fictional stories as an outlet for exploring my own fears, fascinations, and experiences (yes, some of my stories are based on my life!). For this story, a sense of responsibility of getting real people's dynamic right, versus my little imaginary friends."
Love From A to Z was based on the relationship of Betty and Kevin Chen, who met as teenagers. In a strange coincidence, they had the same last name, and thanks to alphabetical order... they were pretty much stuck together throughout high school. "It was inevitable we'd catch feelings for each other, too," Betty says. "We're still together eight years later!" When we asked what it was like to hear their story as a fully produced podcast, she told us, "We've been telling our story to friends for the past 8+ years, so it felt surreal to be in the audience this time. We were laughing, reminiscing, and smiling throughout. [Elena] packaged it into one incredibly fun and engaging story."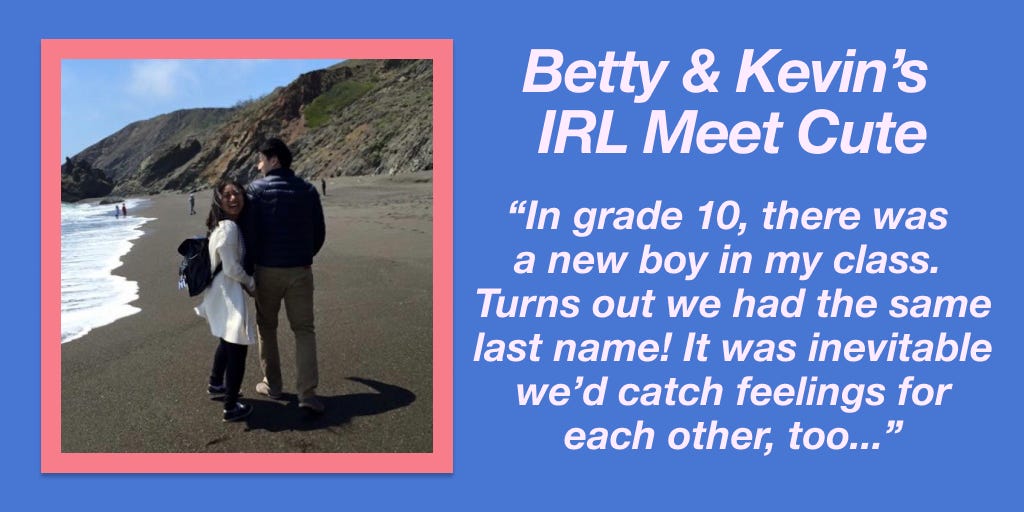 Writer Magi Calcagne wrote about their own relationship with their boyfriend Dean for the IRL Meet Cute Clowning Around. "I was a 23-year-old alternative comedian with a panic disorder and a sad dating history. He was a 41-year-old world class mime and clown who had traveled the world perfecting his art," Magi says. Their chance meeting at one of Dean's shows felt like fate, and the two have been together ever since. "Adapting the real-life story was a little more difficult because I felt a pressure from within to 'get things right' that I don't feel when creating a fictional story," Magi said of writing Clowning Around. "I definitely had to apply the 'kill your darlings' concept more than I usually do for the fictional scripts. But my rock solid self-obsession and the novelty of writing a rom-com about ME definitely kept my spirits up through all the hardships of the writing process."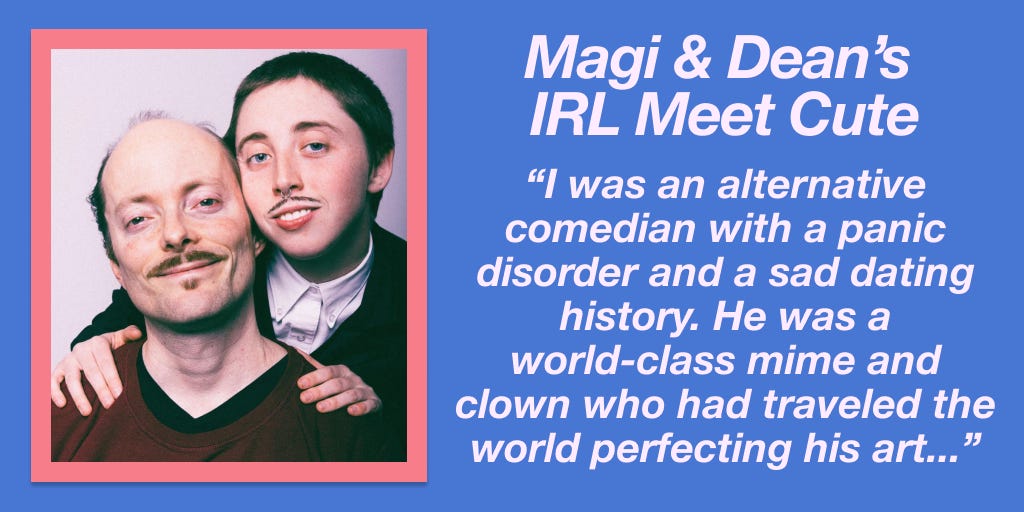 Meanwhile, writer Casey Boykins adapted the true story of how university student Neer met his girlfriend for Belle of the Ball. "A guy who would nurse a crush on the same girl he saw at a college ball a year ago is a special type of sweetheart," she said of getting into her main character's head. 
Her efforts paid off. "You kinda scarily nailed my character and personality," Neer told us after listening to his IRL Meet Cute. "My girlfriend and I listened to it together, quarantining in Mumbai, and it was hilarious, lovely, scary, all at the same time. The story was done so well, and I can't wait to show our (potential) future grandchildren this! You definitely caught the spirit of me fumbling my way through university romances."
We would love to hear your real-life meet cute stories! Tweet at us
@listenmeetcute
and tell us about your IRL pieces of rom-com magic. 
😘 Meet Cute Presents: IRL! 😘
Neer meets his dream girl at their university ball. But can he find the courage to ask her on a date?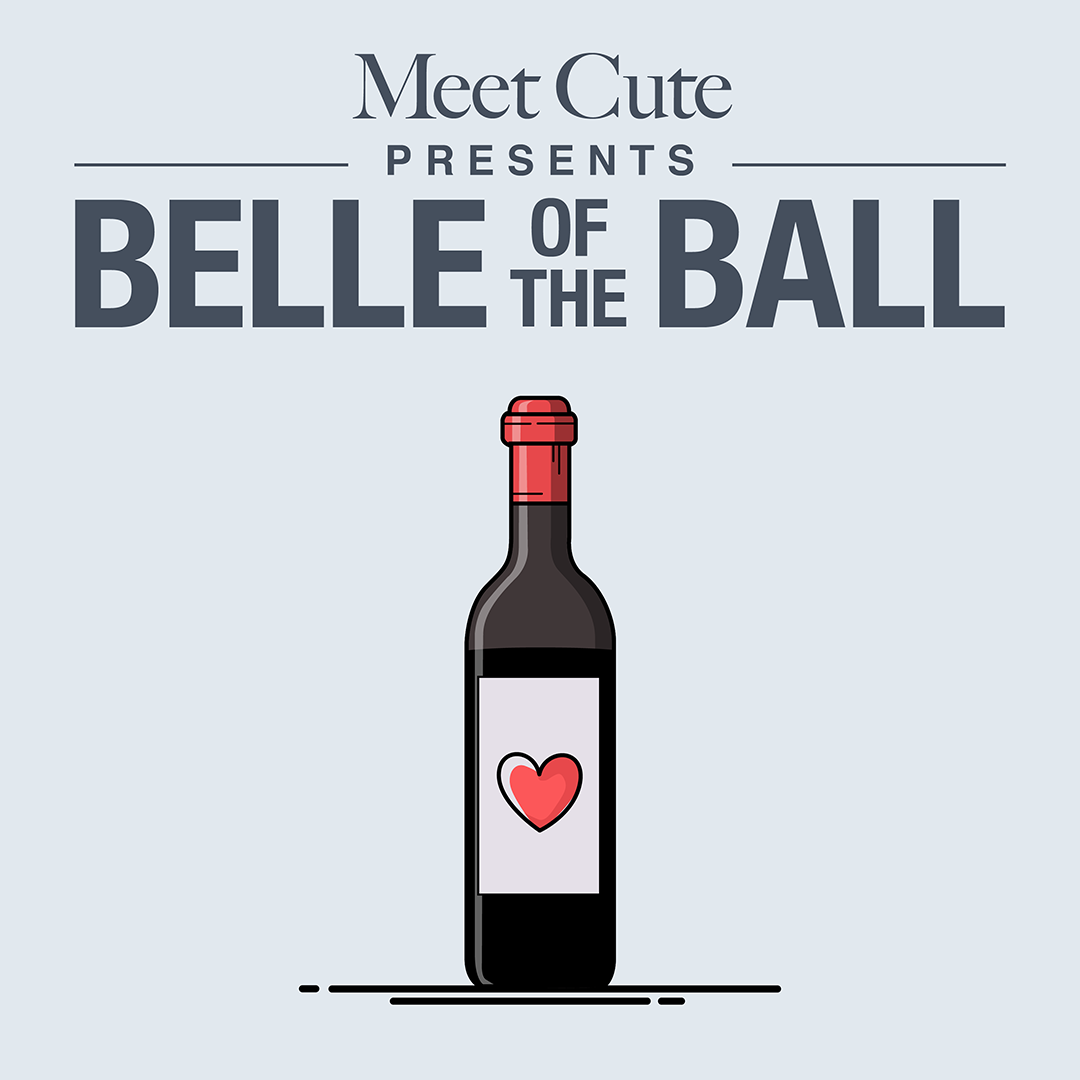 When Orin gets hit in the face with a ham sandwich at one of Dean's performances, they become the comedy community's new piece of hot gossip.
Truth is stranger than fiction in
Clowning Around
.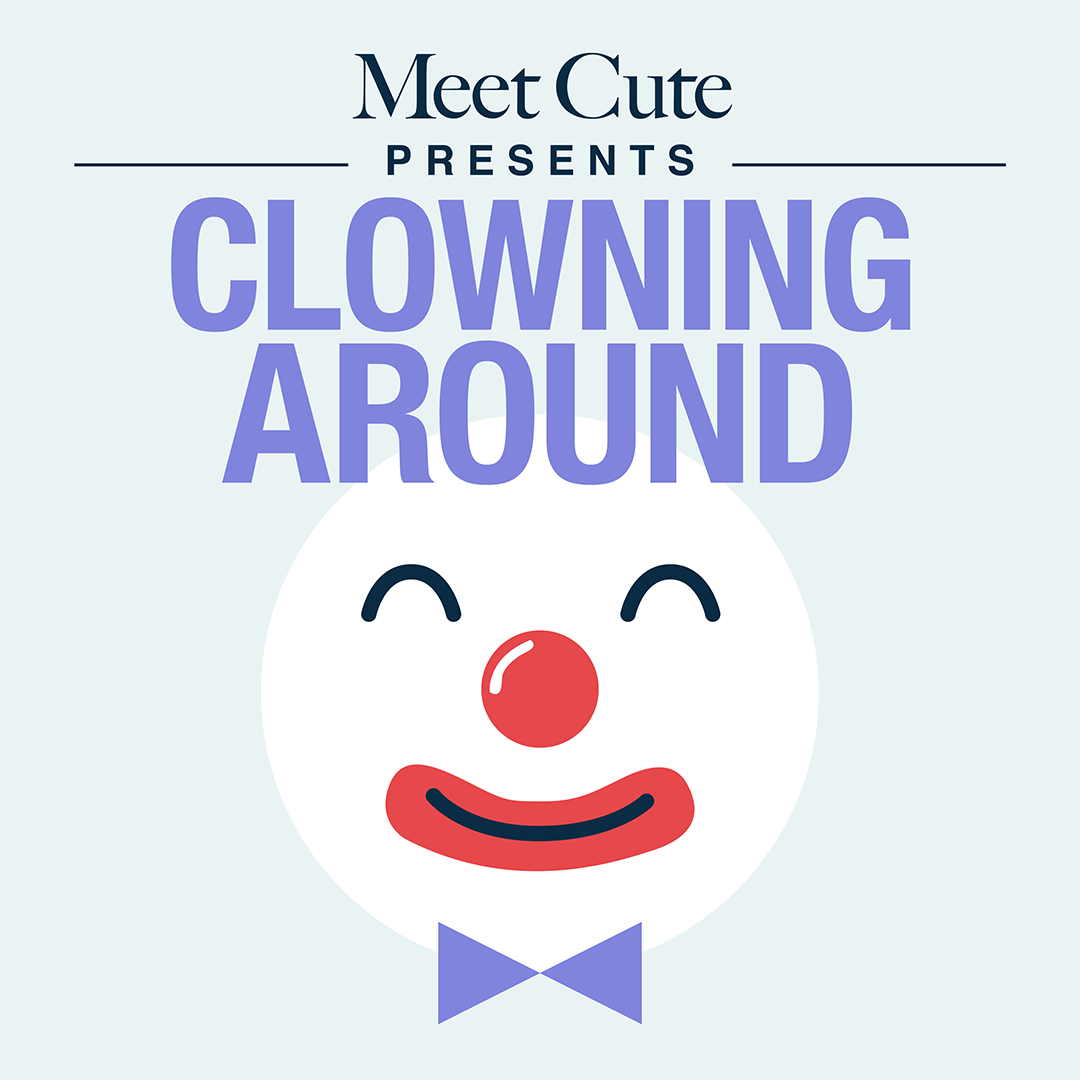 Alphabetical order brings high school sweethearts Betty and Kevin together. But what happens after graduation?
Hear their real life love story in
Love From A to Z
.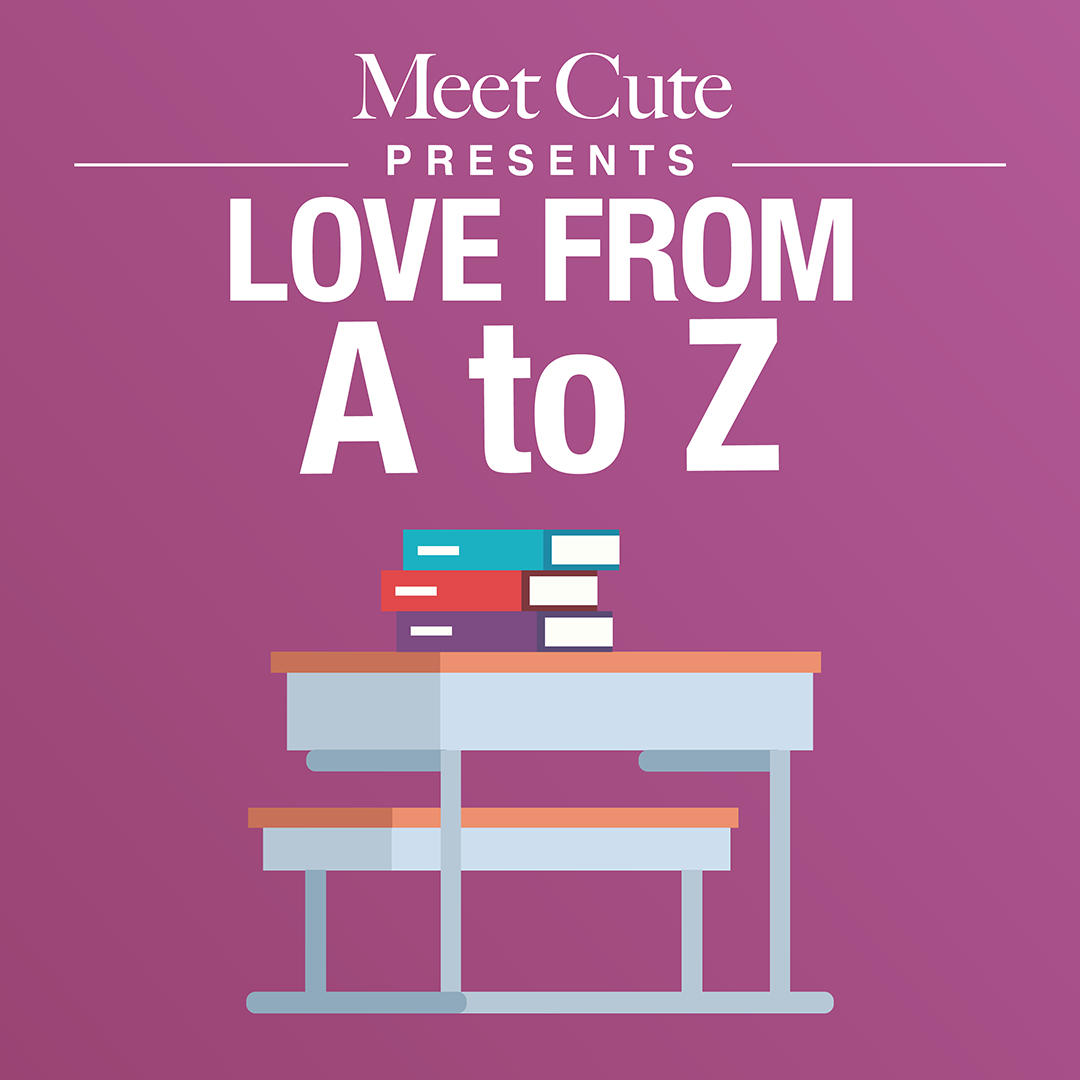 🎧 TUNE IN 🎧
Via the links below, or search for "Meet Cute" wherever you get your podcasts. Don't forget to SUBSCRIBE to keep up with new releases and throw us a FIVE STAR rating (🌟🌟🌟🌟🌟) if you're listening on Apple. 💖
🎶 Love Song of the Week 💞

And don't forget: Share your favorite rom-com scenes and love songs with us for a chance to be featured. Better yet, spot a love message in the wild? Reply to this email or Tweet at us. 💌